AT&T continues its commitment to provide super-fast, secure and reliable Wi-Fi access supporting smart city innovation.
London, 26th May 2021 – The Wireless Broadband Alliance (WBA) today announced that AT&T has successfully completed a proof-of-concept trial of its Wi-Fi network with WBA OpenRoaming™ in areas of downtown Austin, Texas along 6th street and outside of Stubbs BBQ. The network showcases the future of public Wi-Fi, where OpenRoaming provides secure, automatic and friction-free access to any device using their public Wi-Fi network.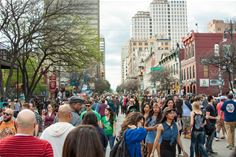 Crowd in 6th Street
AT&T is the first major operator to trial deployment of WBA OpenRoaming™ in a high-density city network. WBA OpenRoaming frees users from constantly re-registering or re-entering log-in credentials enabling the convenience of instant network access, enterprise-grade security and a carrier-grade Wi-Fi experience.
Widespread…