Award-winning broker has secured a strategic partnership with iconic British Formula One™ team.
LONDON, UK., 8th February, 2023 – AvaTrade, the award-winning, established and renowned online trading broker, is thrilled to announce its exciting new partnership with Aston Martin Aramco Cognizant Formula One™ Team (AMF1). The Silverstone-based racing team is competing in the most prestigious automotive racing series in the world and is in year three of a journey aimed at establishing its position at the front of the grid.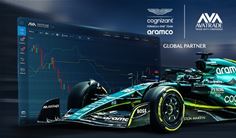 AvaTrade x Aston Martin
AvaTrade's partnership with AMF1, one of the famous brands in racing, is built on speed and innovation, as well as advanced technology and precision. AvaTrade is committed to revolutionising the online trading industry by providing a trustworthy and user-oriented trading environment that empowers users to invest and trade with confidence….