Databarracks is pleased to announce that it has been accepted as a supplier on the G-Cloud 13 framework.
Databarracks provides Resilience and Cloud Services to public sector organisations including: Department for Business Energy and Industrial Strategy, Environment Agency, Innovate UK and UK Research and Innovation.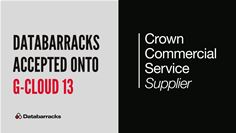 Databarracks G-Cloud
James Watts, Managing Director of Databarracks comments: "The framework comes at a difficult time for government spending and procurement. Efficiency and value for money are critical. The benefits of shorter contracts and nimble SME suppliers can help reduce costs and keep public services delivering.
"The move to G-Cloud 13 has been one of the more significant iterations. G-Cloud 12 was extended multiple times to allow for the transition and the shift to the Crown Commercial Service Public Procurement Gateway.
"For all the good…