Lok Sabha election: In Bihar, the grand alliance led by Lalu Prasad Yadav's Rashtriya Janta Dal (RJD) is likely to announce seat sharing today.
The ruling National Democratic Alliance (NDA) has sealed seats with its allies in Bihar for the upcoming Lok Sabha elections. According to the agreement, the Janata Dal-United and the Bharatiya Janata Party (BJP) will contest 17 seats each while the Lok Janshakti Party (LJP) will contest from six seats.
In neighbouring UP, Congress has left seven seats including Mainpuri, from where Samajwadi Party patriarch Mulayam Singh Yadav is contesting, for the Mayawati-Akhilesh Yadav alliance. Kannauj, where his daughter-in-law Dimple Yadav is expected to run, and seats on which Rashtriya Lok Dal's Ajit Singh and Jayant Chaudhary will fight and any seat that that Mayawati chooses to contest, Congress leader Raj Babbar announced.
The Congress will not contest in seven of the 80 Lok Sabha seats in Uttar Pradesh. The party said that it left the seat for the Samajwadi Party and Mayawati's Bahujan Samajwadi Party.
The Congress will not field a candidate in Mainpuri – the seat from where Samajwadi Party's Mulayam is contesting. Kannauj, which is held by Akhilesh Yadav's wife, Dimple, will also not see a contest from the Congress.
The AIADMK has finalised seat sharing agreement with the BJP in Tamil Nadu. The party is likely to contest in 20 seats in the state, while its allies will contest in the remaining seats.
AIADMK will contest in Chennai South, Madurai, Nilgiris,  Salem, Tirunelveli and 15 others seats. Its ally PMK will contest in Central Chennai, Dharmapuri, Villupuram, Sriperumpudur and three others. BJP to contest in Kanyakumari, Coimbatore ,Sivaganga,  Tuticorin and Ramanathapuram . DMDK to fight in Chennai North,Virudhunagar,Trichy and Kallakuruchi.
TMC (Moopanar) gets Thanjavur, PT Tenkasi. New Justice Party gets Vellore, N R Congress will contest in Puducherry.
YSR Congress party announces list of 25 candidates for Lok Sabha elections.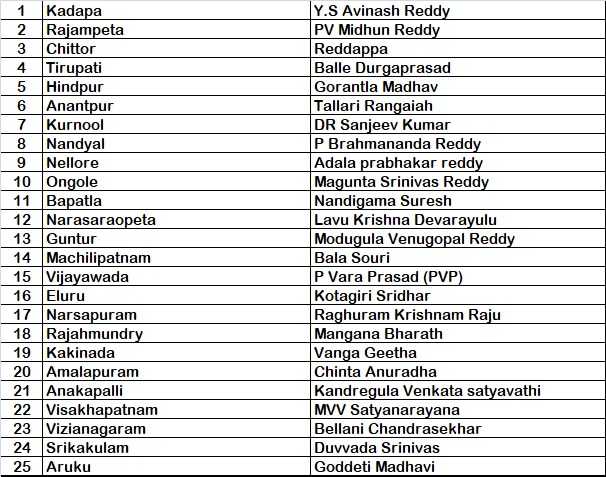 BJP sources said that in Saturday's meeting there was no discussion on Uttar Pradesh, which has 80 parliamentary seats and where the BJP is still in talks with smaller parties to finalise seat sharing. The BJP won 71 seats in the state in the 2014 general election.
Amit Shah is likely to meet with the core committee of the party on Sunday too after which the BJP is expected to announce its first list of candidates.